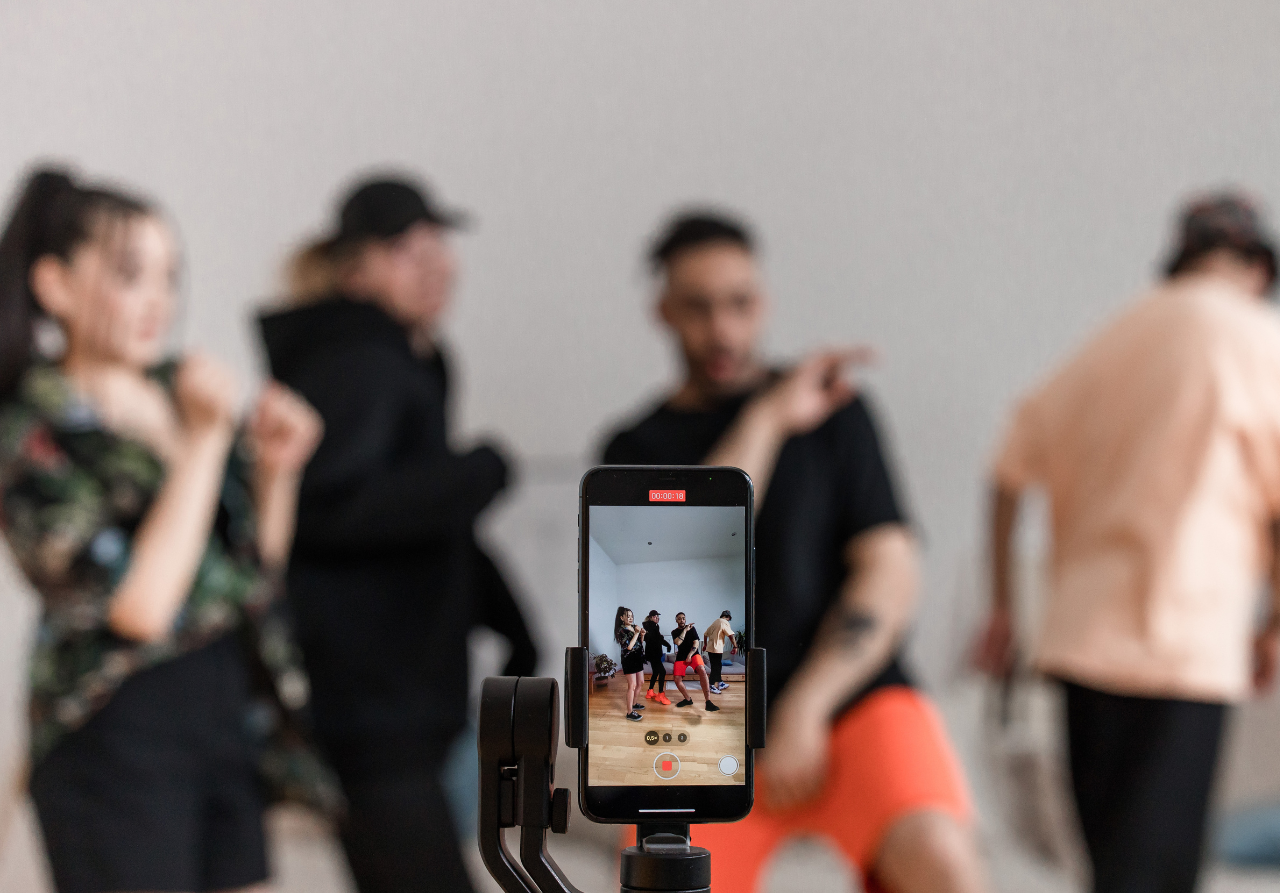 Choosing the Best TikTok Camera
Table of Contents
How your video looks is one of the first things viewers notice when scrolling their TikTok feed. Poor video quality risks viewers moving past your media without watching it, negatively impacting video performance and possibly affecting TikTok monetization potential.
To keep producing the highest-quality video possible, you should choose the right TikTok camera for your shooting style. Different content styles benefit from different camera specs. If you're not ready to make a larger purchase, you can also use the camera right in your phone like a lot of creators do. 
In this guide, we'll be exploring different options to help you determine which will be your best camera for TikTok.
Considerations For a TikTok Camera
There isn't a one-size-fits-all answer for what makes the best TikTok camera. Social media content creators shooting different types of content need to think about which camera is best for their style of media. Important considerations for determining the best camera for TikTok should include:
Autofocus speed:

This gives you decisive focus when shooting video. The best TikTok camera may reliably track subjects, with options to re-focus quickly or move from one target to another.

Ease of transferring video files:

This is needed to easily transfer video files to a computer for editing. Where some cameras require using a transfer cable to move files, many modern camera models offer options for transferring data via Bluetooth or Wi-Fi.

Frames per second (fps):

The frame rate affects how smooth your video looks. Most video is shot at roughly 24 frames per second or 30 frames per second. Higher frame rates are advantageous for capturing subjects in action or quick movements. You can also shoot at higher frame rates and slow it down for a slow motion effect.

Image stabilization:

Using a TikTok camera with good image stabilization keeps your video from being shaky if you're holding it manually while filming.

Video resolution options (ie. 4K, 1080, or 720):

This is the output resolution of your video. The higher the resolution, the clearer the picture. TikTok uploads at a max of 1080, but you can use 4K video and reduce the output to 1080 for uploading and get a clearer video than with the native app recording option.

Accessory jack:

These accessory jacks are important for adding microphones or lights for use when recording your media.
Each of these features will help you create sharp, professional video content that shows off your style and stands out to viewers. Depending on your style of content, the best camera for TikTok videos will put a different emphasis on different specs. For example, action content will benefit from the highest frame rates whereas creators publishing educational content may lean more on image stabilization and autofocus for demonstrations.
Different TikTok Camera Options
Choosing the best TikTok camera means being familiar with the available options. Some content creators rely solely on their smartphones, where advancements have produced high-quality video recording capabilities. Others may require more action-ready cameras like a GoPro for the highest frame rates and durability.
A few different TikTok camera options to consider include:
Smartphone cameras:

For TikTok creators who want a great camera always at their fingertips.

DSLR cameras:

Providing value and quality, with professional video capabilities and interchangeable lenses.

Mirrorless cameras:

Powerful, nimble cameras where what you see is what you get when recording your video.

Action cameras

: These types of cameras are best for content creators filming bursts of movement like sports or other motion-driven actions. 

Point-and-shoot cameras:

Also called compact cameras, these cameras have fast autofocus capabilities and deliver incredible video on the go.
Smartphone Cameras
One of the most popular TikTok cameras is your smartphone. Whether you're recording directly from the TikTok app or recording on your phone to edit and post later, today's smartphones offer content creators performance-ready video recording capabilities. Options to optimize your smartphone for getting better quality video for TikTok include adjusting frame rate, changing the video output resolution, adding a grid to align the shot, and more.
Using a smartphone like the iPhone 14 Pro or Samsung Galaxy S22 Ultra as a TikTok camera is ideal because it's always in your pocket, making it perfect for capturing video content on the go. Many smartphones have an impressive array of built-in editing tools, allowing simpler media to be edited right on the fly. It also gives creators the opportunity to pair their media with third-party apps like MixVoice or MixCaptions for adding a professional touch before posting.
For both iPhone and Android users, content creators should consider different voice over tips for recording high-quality audio if you'll be including dialogue. External microphones are typically inexpensive and are often better than relying on audio recorded directly on the built-in mic. You may also consider a telephoto lens or other lens options for filming video in unique ways using your smartphone.
DSLR Cameras
Some content creators are choosing DSLR cameras like the Nikon D7500 or Canon EOS 250D as the best camera for TikTok videos. Often considered one of the most budget-friendly TikTok camera options on this list, DSLR cameras provide value and quality. Their ability to shoot professional video content and work with interchangeable lenses makes DSLR cameras the most popular traditional camera option for many content creators today. They're also often used by photography and videography professionals to shoot events.
DSLR cameras use full-frame sensors to capture great detail for landscapes and portraiture. This means shooting video with a DSLR for a TikTok camera will get all the details you want for your media with a lot of depth of field.
Mirrorless Cameras
A "what you see is what you get" TikTok camera option, mirrorless cameras like the Sony ZV-E10 can produce extremely high-quality video. Instead of being exposed to light through a mirror like a DSLR camera does, the image sensor for mirrorless cameras is directly exposed to light.
These may make the best camera for TikTok videos for creators shooting on the go as they have faster autofocus and lighter bodies.
Action Cameras
Creators shooting videos with bursts of movement should consider action cameras for their TikTok equipment. Action cameras like a GoPro HERO11 Black or the DJI Pocket 2 are durable so you don't have to worry about them breaking if they're dropped, are much smaller than traditional cameras, and shoot at high frame rates to capture your video in great detail.
This is perfect for people capturing athletic events, skateboarding tricks, skydiving, or other activities. Their small, portable bodies also make them ideal for shooting POV content, giving viewers a unique view.
Point-And-Shoot Cameras (Compact Cameras)
Not your point-and-shoot cameras of decades past, today's compact cameras have lightning-fast autofocus, large light sensors, and great lenses for capturing content on the move. Some of the favorites from content creators shooting TikTok videos are the Canon PowerShot G7 X Mark III and Fujifilm X100V, each delivering excellent video quality.
These cameras don't have interchangeable lenses, however, so they're more limited than their DSLR counterparts. Simultaneously, they're often less expensive, which is beneficial for content creators working on a budget but wanting something other than their smartphone to shoot with.
For an in-depth breakdown of different camera models, check out the 2023 Best of lens guide to TikTok cameras that looks into a variety of options and labels the best for different types of content. In this guide, camera expert Sharon Ardvik discusses the pros and cons of each camera for content creators of all skill levels and styles.
Content creators need to choose a TikTok camera based on their style of content and video recording. Take into consideration important specs like video output resolution options, frames per second, and accessory jacks so your camera will meet all your needs. Most importantly, make sure it's easy to transfer your video files from the camera to your computer for editing and uploading if you're using video editing software or other third-party apps. Having the right TikTok camera will elevate your media to the next level and improve overall performance.