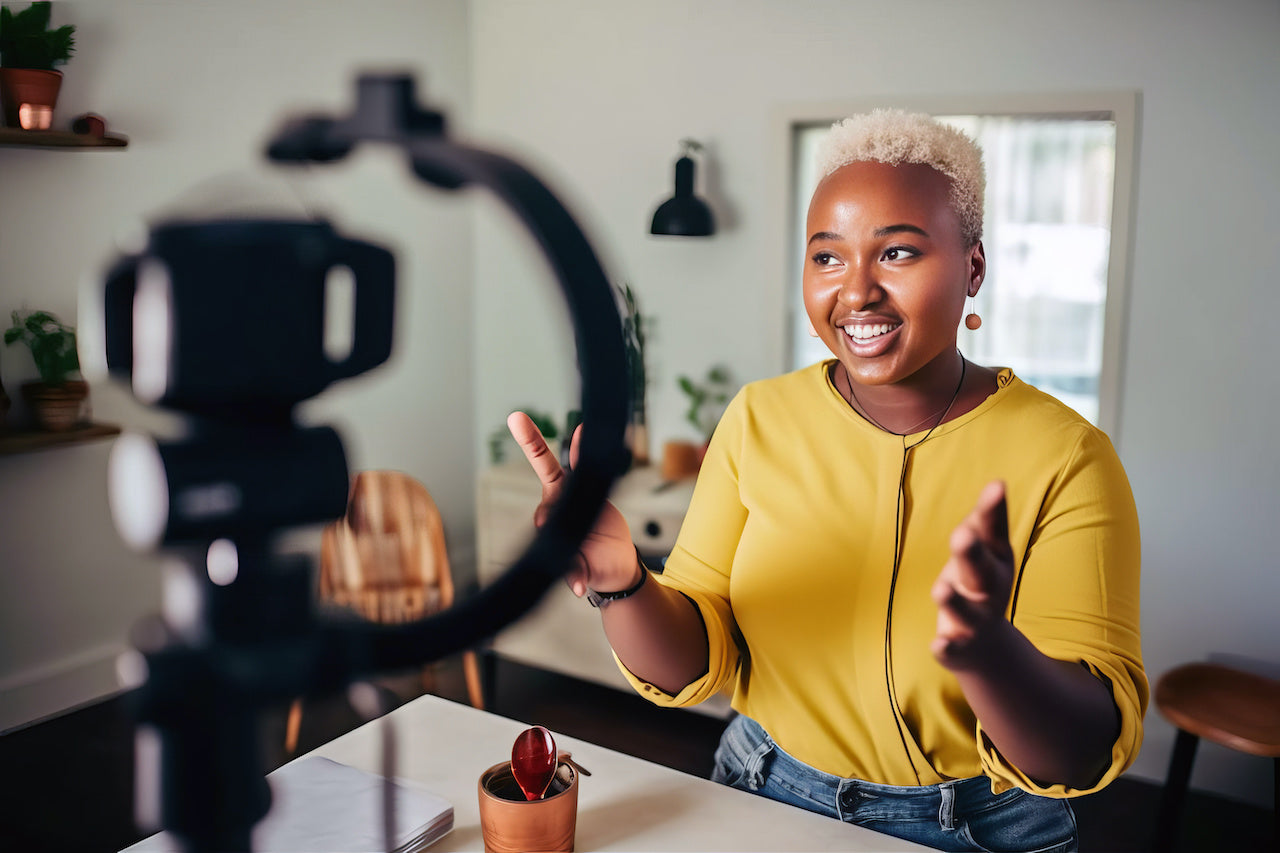 How to Get Brands to Sponsor You On Social Media
Content creators have become powerful influencers on social media platforms and brands are increasingly turning to them to promote their products and services. This opens up exciting opportunities for content creators to collaborate with brands and monetize their online presence. In such a competitive space, it's vital you learn how to get paid partnership with brands if you're looking to expand your reach and build your brand higher.
Today, we're looking at how to get brands to sponsor you on social media. We'll look at ways to attract brands to you as well as ways you can reach out to brands with whom you want to work. Additionally, We'll explore the current options available to social media content creators for how to get brand sponsorships on major platforms like TikTok, Instagram, and YouTube.
How to Get Brands to Sponsor You
You're putting in the time and effort to create content, but what about how to get brands to sponsor you so you can elevate monetizing your media to the next level? As a content creator, one of the most valuable skills you can acquire is the ability to attract brand sponsorships. These partnerships can be a significant source of income and a way to expand your reach. Brands are continually seeking influencers who can authentically promote their products or services to a dedicated and engaged audience. 
To learn how to get brands to sponsor you, consider the following strategies:
Build your brand

Know your audience

Produce high-quality content

Post regularly

Diversify your content

Use a hashtag strategy
1. Build Your Brand
Building your brand is the first and most important part of how to get brands to sponsor you on social media. Your brand is your online identity. It's what sets you apart from other content creators. A strong brand conveys consistency and authenticity, which are essential traits that brands look for when choosing influencers to work with.
Define your niche: Identify your area of expertise and the topics you're most passionate about. This will help you create content that resonates with a specific audience.
Craft a unique persona: Be yourself, but also consider how you can showcase your personality in a distinctive way. Your authenticity and uniqueness will be your biggest asset.
Create a recognizable aesthetic: Develop a consistent visual style for your content, including your profile picture, channel art, and video thumbnails.
Engage with your viewers: Interact with your viewers through comments, live streams, and other forms of media. Building a loyal audience can make you more appealing to brands.
2. Know Your Audience
Brands are interested in reaching specific demographics or target markets. Understanding your audience demographics and preferences is crucial for how to get brand sponsorships from businesses looking to connect with those viewers.
Pay attention to your analytics: Social media platforms like TikTok, Instagram, and YouTube provide creators with analytics tools that provide insights into your audience's age, gender, location, and interests. See where you are performing best and be ready to leverage it for how to get paid partnership with brands. 
Engage with them: Just like building your brand, knowing your audience requires engaging with them in meaningful, authentic ways. Respond to comments, conduct polls, and ask for feedback to learn more about what your audience wants.
Use surveys and data: Consider creating surveys to collect detailed information about your audience's preferences, which you can share with potential sponsors. You can also do this to help direct your content production and increase overall media performance. 
3. Produce High-Quality Content
Another major part of how to get brands to sponsor you on social media is to produce high-quality content. Brands want to associate themselves with content that reflects positively on their products or services. Using the best content creator tools to produce professional content is a fundamental requirement for securing brand sponsorships.
Choose the right equipment: Make sure you're using the right equipment for your content. For example, get the best microphones for YouTube, choose the best TikTok camera to record your videos, and invest in the best lighting for video recording within your budget. If you're just starting out, there are plenty of ways to keep video production cost low without sacrificing quality.
Edit professionally: Learn video or photo editing skills to enhance the quality and aesthetics of your content. If this is a skill beyond your capabilities, consider hiring a video editor for YouTube or other platforms to stay competitive.
Stay relevant: Keep yourself updated on current trends, techniques, and best practices in content creation. Continuous improvement is key to maintaining high quality and how to get paid for sponsored posts.
Storytelling: Develop storytelling skills to engage your audience and convey messages effectively. Make sure you're creating with social media accessibility in mind to reach your full viewership potential.
4. Post Regularly
Consistency is a crucial factor in building an engaged and loyal audience. It also assures brands that you are committed to your platform and your followers.
Create a content calendar: Plan some evergreen content ahead of time to maintain a consistent posting schedule. Streamlining production to stay nimble and on-trend is also vital.
Use scheduling tools: Platforms like Buffer, Hootsuite, or native platform scheduling features can help automate your posting, letting you stay consistent even during busy times.
Batch content creation: Dedicate specific days for content creation to create a buffer of content to use when you can't produce new material.
Engage in seasonal and trending content: Create content that relates to holidays, seasons, or current trends to keep your content fresh and relevant.
5. Diversify Your Content
While having a niche is beneficial toward how to get brands to sponsor you on social media, showing versatility and the ability to adapt your content to different formats and interests can make you more attractive to a wide range of brands. It's also helpful to boost content performance when the popularity of your niche begins to show fatigue to prevent your metrics from seeing a decline.
Experiment with different content types: Try various content formats such as videos, live streams, slideshows, and more.
Collaborate with other creators: Collaborations introduce your content to a broader audience and demonstrate your adaptability.
Publish fresh media: Don't just share one kind of content over and over. Instead, make sure your thumbnails and content vary to show a diverse array of media on your profile and social media feeds. Diverse content can help expand your reach and work with social media platform algorithms.
Creator Tip: Create with platform algorithms in mind to elevate your content and gain better viewership. For example, check out our guide on how the TikTok algorithm works to learn more and strategize how to get brand sponsorships.
6. Use a Hashtag Strategy
Hashtags can boost the discoverability of your content and connect you with users interested in similar topics. Brands often use hashtags to discover potential influencers, so it's vital that you incorporate them into your posts as part of your strategy on how to get brands to sponsor you.
Research relevant hashtags: Find popular and trending hashtags in your niche. Use tools like the Trends tab of the TikTok Creative Center or third-party platforms like RiteTag to find specific platform insights to discover relevant tags.
Create your unique hashtags: Develop a branded or signature hashtag for your content. This can help build a community around your brand.
Monitor and adjust: Regularly assess the performance of your posts with various hashtags and adjust your strategy accordingly.
Can I Pitch Brands for Sponsored Content?
Yes, you can actively pitch brands for sponsored content collaborations. In fact, proactive outreach to brands can be an effective method for how to get brands to sponsor you on social media.
Craft professional and personalized pitches that highlight what you bring to the partnership, the benefits for the brand, and how your content aligns with their goals and values. Remember to be concise, persuasive, and respectful in your approach, making it easy for brands to see the value in working with you. It's ideal to include a media kit showing an analysis of your audience and how it connects with their brand goals.
How to Get Brand Sponsorships on Major Social Media Platforms
Outside of organically building your account in order to solicit brand interest, there are other options for how to get brands to sponsor you on social media you should consider. For example, there are third-party companies like Influencer and Ubiquitous that are dedicated to connecting social media creators and influencers with brands. Additionally, there are native platform options for facilitating how to get paid for sponsored posts.
How to Get Brand Sponsorship on TikTok
TikTok offers a native platform program known as the TikTok Creator Marketplace, which provides content creators with the opportunity to connect directly with brands seeking influencers for partnerships. In this marketplace, creators can create a profile, showcase their work, and access various brand campaigns, making it a convenient and effective way for TikTok content creators to find brand partnerships.
Additionally, TikTok Shop has made it easier for creators to monetize their media on their own via an affiliate-style program. Success here could be leveraged into larger brand partnerships, so be sure to track your analytics.
How to Get Brand Sponsorship on Instagram
Similar to TikTok, creators are able to use the Instagram Creator Marketplace tool as an effective method for how to get brand sponsorship on Instagram. Launched in 2022, this program lets you add your favorite brands to your list of preferred brand partners, get noticed with the partner discovery feature, manage sponsored brand opportunities, and more. 
How to Get Brand Sponsorship on YouTube
It comes as no surprise that there are many ways to monetize YouTube content, including using YouTube BrandConnect (formerly called FameBit). As of the time of this article's publication, the platform has reformatted YouTube BrandConnect to be a self-service platform that connects creators with opportunities for branded content campaigns.
How Much to Charge for Sponsored Content
The point of learning how to get brands to sponsor you on social media is to boost your reach, build your brand, and bring in revenue. So what about how much to charge for sponsored content?
That factor varies from creator to creator and brand deal to brand deal. For instance, some smaller creators just starting out seeking sponsored content may choose to post for a brand in exchange for free products or services. This is a popular way to begin and leverage your sponsored content for future partnership deals.
What about monetary compensation? Choosing how much to charge for sponsored content is highly dependent on factors like your niche, the size of your following, and how engaged your followers are. Brands will be willing to pay higher amounts for creators with a more active following who are more likely to convert into customers than someone with reach but fewer engaged viewers.
Some creators negotiate their rate to be a flat amount per milestone, such as $500 or $1000 per 10k followers. You can also adapt your rate based on the budget of the brand, if you personally vibe with that brand and want to work with them, or even based on how valuable you see the partnership to securing future sponsored content that pays more.
Learning how to get brands to sponsor you on social media requires a combination of dedication, creativity, and business sense. By building a strong online presence and consistently delivering high-quality content, you can attract the attention of brands looking for creator collaborations. Whether you're on TikTok, Instagram, or YouTube, the key to success lies in authentic engagement with your audience and demonstrating the unique value you bring to potential brand partnerships.