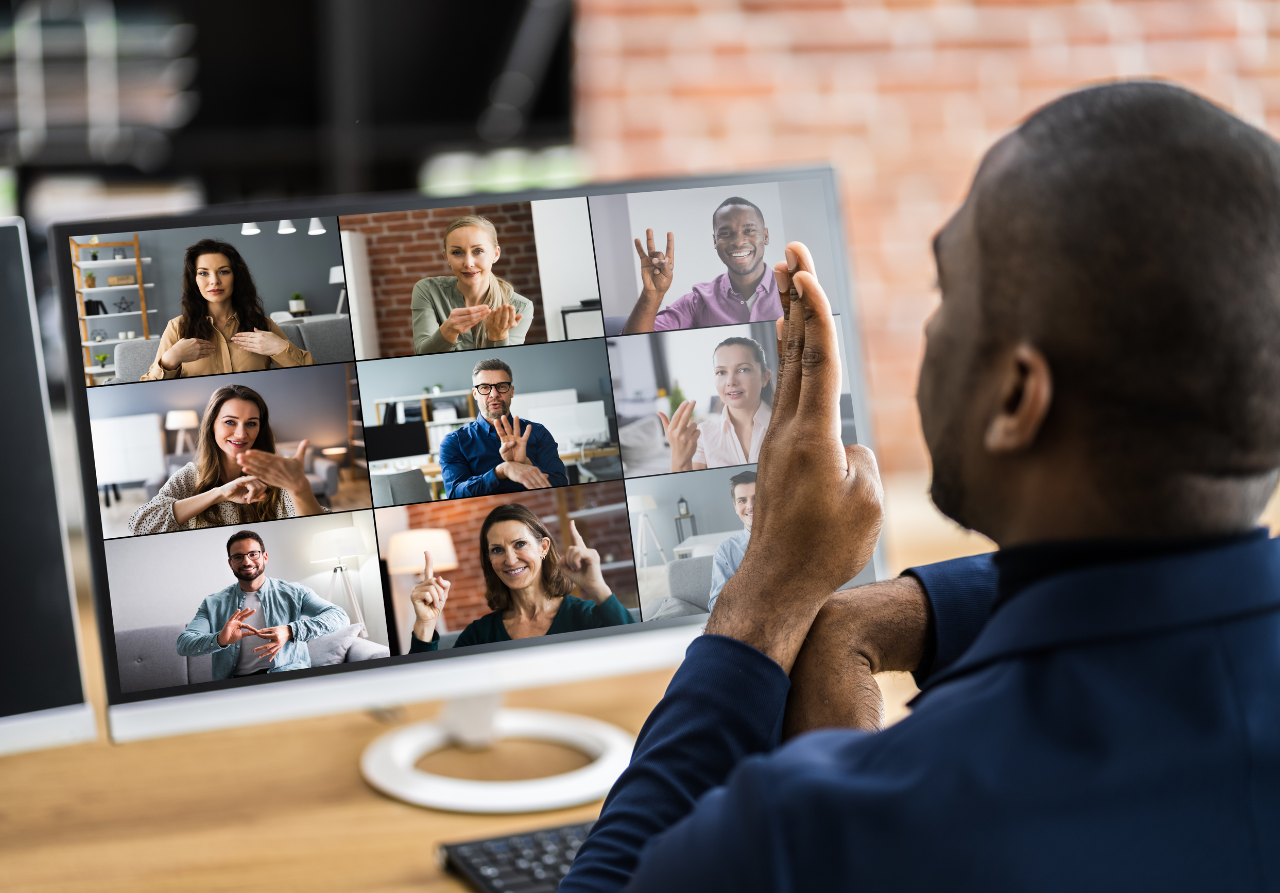 Spotlight: What is Deaf History Month?
Table of Contents
There are over 1.5 billion Deaf or Hard of Hearing people living around the globe representing nearly 20% of the world's population. During National Deaf History Month, we're observing the challenges they face, important moments and figures throughout Deaf history, and shining a light on notable Hard of Hearing and Deaf content creators today. 
What Is Deaf History Month?
National Deaf History Month is an opportunity to raise awareness and recognize the accomplishments of those who are deaf or live with hearing loss. Its origin is not clearly defined, but is attributed to two Deaf employees working at the Martin Luther King, Jr. Memorial Library in Washington, D.C. who began to teach their colleagues sign language on March 13th, 1996.
Originally a week-long observance, this expanded into a month-long annual observation of the Deaf community in 1997, spanning from March 13 to April 15. The focus of this month is on Deaf persons, the history of the Deaf community, and the achievements its members continue to make. The dates were atypical of monthly observances, however Deaf History Month was originally based around major dates for the Deaf community:
April 15th, 1817:

On this day, the American School for the Deaf, the first US public school for deaf children opened in West Hartford, Connecticut.

On April 8th, 1864:

Founding date of Gallaudet University in Washington D.C., the first higher education institution for the Deaf and Hard of Hearing.

March 13th, 1988:

The date Dr. I. King Jordan was nominated as Gallaudet University's first Deaf President. This was part of the "Deaf President Now" movement.
In March 2022, the National Association of the Deaf (NAD) released its statement officially changing the observance of Deaf History Month to be April 1 to April 30. This is meant to simplify the dates and be more inclusive of all Deaf persons rather than focusing so strongly on dates surrounding educational institutions.
Other Deaf Awareness Observances
National Deaf History Month is not the only observance of its kind. While not a Federally-recognized observation, Deaf History Month is just one of several opportunities throughout the year to shine the spotlight on the Deaf community. Other observances include:
Deaf Awareness Week:

Observed during the month of May in the United States

International Week of the Deaf:

Celebrated globally in the last full week of September

Deaf Awareness Month:

Recognized in the United States for the month of September
Famous Names in Deaf History
There have been endless numbers of achievements made by members of the Deaf community that are highlighted each year for Deaf History Month. They include such notable figures as:
Shirley Jeanne Allen Ed.D:

The first Black deaf woman in the U.S. to earn a doctoral degree. She was also an accomplished pianist who continued to play after going deaf due to typhoid fever.

Audree Norton:

The first deaf actress to be cast on a national network television show and a founding member of the National Theatre of the Deaf. She paved the way for many Deaf and Hard of Hearing performers and content creators today.

Eugene Hairston ("Silent Hairston"):

Became the first deaf professional African American boxer, winning over 45 matches and taking down two world champions all before the age of 22.

Robert R. Davila, PhD:

A Mexican American who went deaf at eight years old due to spinal meningitis. He became a powerful disability rights advocate, even serving under President George H.W. Bush as assistant secretary for the Office of Special Education and Rehabilitative Services.

Antionette Abbamonte:

As an actress, producer, Women's Rights advocate, and advocate for the Deaf community, she worked with the Los Angeles Science and Discovery theater to ensure all educational films would have subtitles. Her influence is felt today, educating on the

benefits of captions for the Hard of Hearing

and paving the way for deaf content creators.
Ways to Support Deaf History Month & Spread Awareness
You don't have to be part of the Deaf community or Hard of Hearing to observe National Deaf History Month and spread awareness. One of the easiest ways to support it is to learn how to communicate with Deaf individuals properly. Simple ways to engage in an inclusive way are:
Always face the person to whom you are speaking

Speak clearly and more slowly than you may typically speak

Do not cover your mouth, as many Deaf and Hard of Hearing individuals read lips

Repeat or reword your speech as needed to help communicate more easily
For social media content creators, recognizing ways to improve content and promote inclusivity for all is most effectively done by adding captions to videos. Using captioning apps for accessibility allows those who are deaf or hard of hearing to experience your content and be part of cultural conversations without missing anything.
As a content creator, it's a simple, but effective, way to ensure your content reaches its full potential and to promote inclusivity for Deaf History Month and all year long.
Hearing Impaired and Deaf Content Creators to Follow
As part of Deaf History Month, let's take the opportunity to shine the spotlight on Hard of Hearing and Deaf content creators who are prevalent on social media platforms. These creators range from comedy TikTokers to fashion YouTube vloggers:
Jessica Kellgren-Fozard

Nakia Smith

Otis Jones

Chrissy Marshall

Patrick McMullin & Big Ben 
Jessica Kellgren-Fozard
A Deaf British content creator, Jessica Kellgren-Fozard has built a following of over 800,000 people on YouTube. She posts vlogs about everything ranging from vintage fashion and motherhood to living with a chronic illness. Not only is Jessica a Deaf person, but she also lives with vision impairment and a nerve disorder, sharing her experiences and answering questions for followers via her content.
Nakia Smith
Nakia Smith (who goes by @itscharmay on TikTok) is a TikTok content creator who has brought an important spotlight to Black American Sign Language (BASL). She has been featured in a wide variety of articles sharing her experiences and educating others while celebrating BASL. She's coined the phrase  "My hands are loud enough" and is a thought leader in the Deaf content creator space.
Otis Jones
Having over 3 million likes on TikTok, Otis Jones is a Deaf TikTok content creator who uses his platform to educate others on American Sign Language (ASL). He talks about people learning ASL as a way to bridge the gap between communities and is known for ASL covers of popular songs. In addition to his ASL song covers, he also published short ASL lessons for viewers to learn more.
Chrissy Marshall
As a Los Angeles-based Deaf filmmaker and advocate, Chrissy Marshall is another TikTok content creator to follow. She uses a comical, upbeat style to teach viewers ASL via pop music, clips from movies, and current TikTok trends. She teaches lessons on deaf awareness, expanding on the potential of Deaf Awareness Week and making it something viewers can learn more about year round.
Patrick McMullin & Big Ben 
This Deaf comedy duo calls Detroit home. Patrick McMullin and Big Ben share pranks and skits on TikTok using ASL to also answer questions from followers and make them laugh. Not an educational channel on purpose, viewers and other content creators alike can still learn a lot from the comedy pair.
Deaf History Month is a time to shine the spotlight on the history and accomplishments of Deaf and Hard of Hearing individuals throughout history and today. The achievements of previous Deaf persons paved the way for Hard of Hearing and Deaf content creators and viewers today.