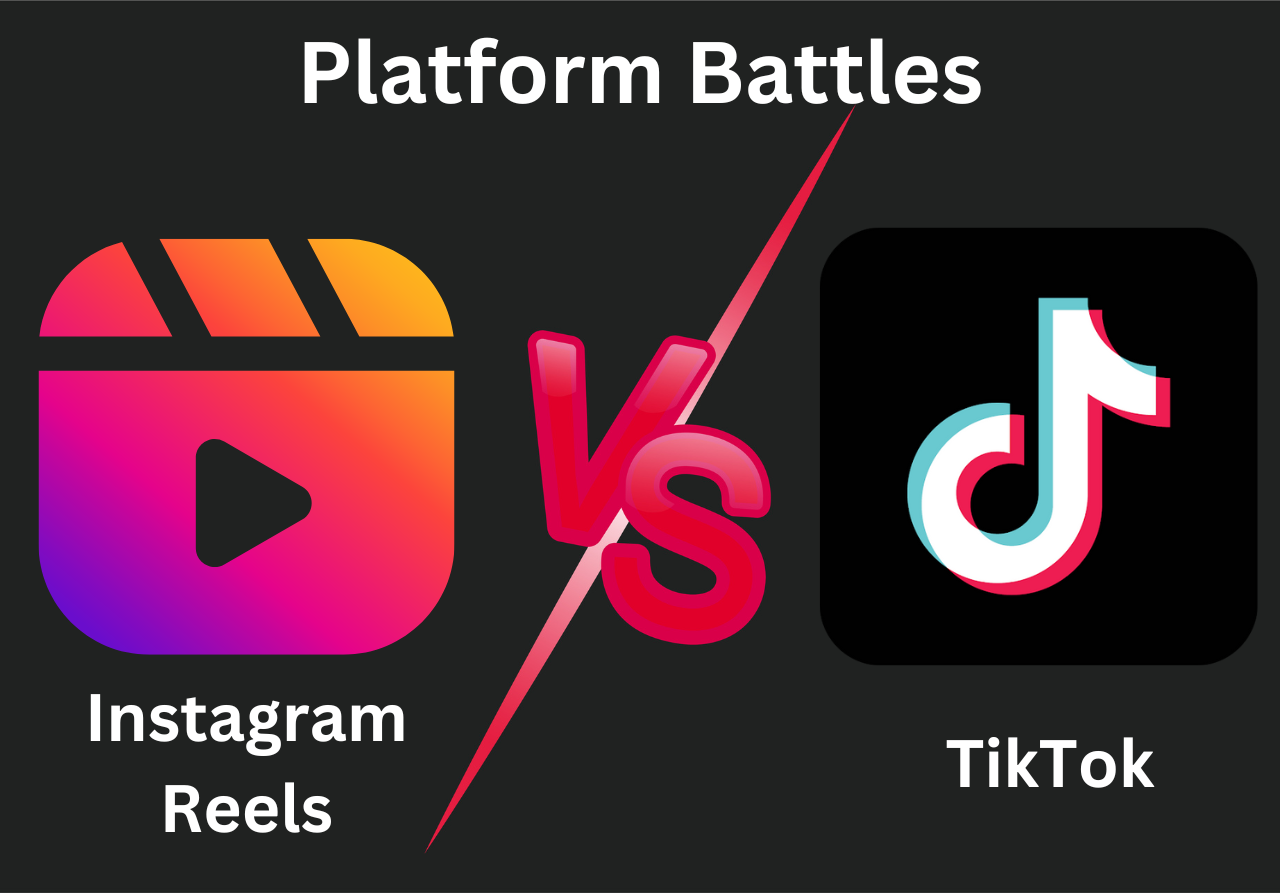 Platform Battles: Instagram Reels vs TikTok
Where TikTok is often the new kid on the block when it comes to social media platforms, it predates Instagram Reels by a few years. Launched in 2016, TikTok has rapidly grown to over 1 billion monthly active users and continues its trajectory as a vertical short form content giant. In response to this success, Meta launched Instagram Reels, its own vertical short form feature, in August 2020.
In this platform battle, we're pitting Instagram Reels vs TikTok in a showdown for short form content market share. Check out how each platform is being used by creators, businesses, and viewers to see which platform is right for your media.
Using Instagram Reels vs TikTok
At first glance, you'd think both Reels and TikTok are mostly identical and therefore used in the same ways. Content creators often have accounts on both, but there are some differences that have led them to approach viewers uniquely from one another.
Instagram Reels Uses
Instagram shifting focus from image posts to video content (Reels)

More polished aesthetic for lifestyle content, ideal for building a consistent brand image

New monetization model in development for the platform

Average age of users is 18 to 24
Instagram Reels are the newest major feature on the Instagram platform. It has been part of the evolution of the platform taking the focus from image posts to video content. There are also reports of Instagram testing a new rectangular grid to encourage Reels to take center stage on the app.
A comparison of Instagram Reels vs TikTok shows Reels as a platform with slightly more polished aesthetics exhibiting lifestyle content. It's ideal for content creators to publish content with eye-catching visuals right away, which is why many brands have turned to Instagram Reels to boost engagement for their business in addition to individual creators building up viewership.
In a recent blog post, Meta executives announced that they're moving away from the existing Creator Fund model for Instagram Reels monetization, similar to the actions of other platforms like YouTube Shorts1. While it has yet to be announced what they're intending to replace it with, they've stated that a new monetization model is a focus for 2023.
Bonus: Learn more about current YouTube Shorts Monetization practices after this.
TikTok Uses
Content ranging from educational content to singing, dancing, and creative storytelling

Slightly more experimental content aesthetic vs polished like Instagram Reels

TikTok users have multiple ways to monetize content

Largest user age range is 18 to 34
Comparing Reels vs TikTok, there's a different vibe between the two platforms. Where social media content creators are often active on both, TikTok offers a wide variety of content that feels slightly more aesthetically experimental. While it's still high-quality content, TikTok is often shot much more quickly to keep up with ever-changing trends that shift more rapidly than on Reels.
TikTok users find themselves with more opportunities to monetize content. This advancement beyond the Creator Fund continues to evolve, with the recent beta testing of its revamped Creativity Program2 all under the portal called Creator Next.
Comparing Features on Instagram Reels vs TikTok
No platform battle is complete without a comparison of features. A dive into Instagram Reels vs TikTok shows many similarities in what features they offer creators and viewers alike. Each offers creators a music library, ways to interact with other people's content, and social media accessibility features. Viewers are presented with methods for sharing content they enjoy and see horizontal short form content via a feed on each.
The differences between Instagram Reels vs TikTok become more visible as we dive into their respective features. Where some are unique to one app or the other, many shared features are also exhibited differently for viewers and creators.
Similarities
Video length

Method of recording video on the app

Direct messaging

Dueting/remixing content from others

Video responses to comments

In-app voice over recording

In-app auto captions

Video descriptions

In-app shopping and product tagging
📹 Video Length
Instagram Reels: Up to 90 seconds.
TikTok: Up to 10 minutes.
Video length is a major difference when comparing Instagram Reels vs TikTok. Instagram Reels launched with a maximum length of 15 seconds, which matched TikTok at that time. This has been expanded multiple times and now Reels may be up to 90 seconds long.
TikTok continues to update its video length, exploring longer video lengths for content creators. Its latest update now allows creators to publish videos up to 10 minutes in length. Before you go posting a bunch of 10-minute videos, know that the best-performing videos remain those on the shorter side, with nearly 25% of the most-liked videos being 21-34 seconds long.
📲 Recording Video On the App
Instagram Reels: Can record or upload video. Can stitch recorded clips together.
TikTok: Can record on the app and stitch clips together. Also able to upload existing video.
Any comparison of Instagram Reels vs TikTok shows that both platforms allow creators to record directly on the app itself. This means content creators can create videos on the fly as well as upload completed videos for publishing.
Both platforms also allow creators recording in-app to record multiple clips and stitch them together during the editing process.
💬 Direct Messaging
Instagram Reels: Direct messaging and social sharing options are available.
TikTok: Creators and viewers can share via in-app messaging and social sharing options.
Instagram and TikTok are two of the most popular social media platforms, making options for viewers and creators to interact vital to their success. Each of these platforms offers in-app direct messaging features as well as options to share Reels and TikTok videos with one another via in-app messages. 
Note: At this time, TikTok allows you to send up to three messages to a user until they accept your message request.
👯 Dueting/Remixing Content From Others
Instagram Reels: Remix feature lets creators use other people's content with their own.
TikTok: Duet and Stitch features give creators two ways to interact with other content.
A popular feature for content creators on the TikTok app is the ability to duet or stitch content. This allows them to directly use content from other accounts while recording their own media. Stitch lets creators use part of another person's video together with their own, while Duet shows the other person's video in a side-by-side format.
Instagram Reels released a similar feature called Remix, which allows creators to choose from a variety of layouts to present the original video next to, above, or below their own4. This is only available for Reels that were published after Remix was launched. Instagram Reels are also testing out functionality to remix new Reels with photos, but this feature is not yet available to everyone.
In a comparison between Instagram Reels vs TikTok, the latter reigns supreme when it comes to creating new content incorporating other people's content at this time. Both platforms are continuously expanding their functionality, so it will be interesting to see how this expands in the future.
🤳🏼 Video Responses to Comments
Instagram Reels: Creators can respond with videos. Video delete if comment deleted.
TikTok: Creators can respond with videos. Video stays even if the comment is deleted.
The ability to respond to comments left on videos with a new video allows direct dialogue between viewers and content creators. Each of these two platforms allows creators to respond to comments with videos, but the differences between Instagram Reels vs TikTok become apparent when you dive a little deeper.
Both platforms publish video responses by adding the original comment to the screen, but what happens if that comment is deleted? For TikTok users, the "this comment has been deleted" message has become commonplace when commenters receive unwanted attention from a response. The video response, however, lives on after comment deletion.
Instagram Reels are slightly different. The comment is posted in a video response similar to the TikTok platform, but if the original comment is deleted, the Reel is deleted with it. Put simply, you can't have an Instagram Reel video response to a comment that no longer exists whereas you can on TikTok.
🗣️ In-App Voice Over Recording
Instagram Reels: Allows voice over recording. Sound not added to music/sound library.
TikTok: Allows voice over recording. Sound is added to music/sound library.
TikTok allows content creators to record voice over audio in the app, which makes it a usable sound in the library. Instagram also allows for voice over recording during the editing process, but this sound is not added to the app's library.
📝 In-App Auto Captions
Instagram Reels: Auto captions are available but harder to find option. Known to be glitchy.
TikTok: Auto captions available. Occasional feature issues in editing toolkit.
Both TikTok and Instagram Reels have options to add auto captions within the app's editing tools. Unfortunately, both Reels and TikTok videos have been known to have occasional issues with their editing toolkits in which auto caption options won't work or disappear altogether.
To circumvent this potential issue and create better content that stands out, many creators are turning to third-party video caption apps like MixCaptions. These apps provide more direct control over captioning videos as well as styling them for video accessibility.
✍️ Video Descriptions
Instagram Reels: Up to 2,200 characters plus 30 hashtags. May be edited after publication.
TikTok: Up to 2,200 characters. Cannot be edited once live.
Until recently, a comparison between video descriptions for Instagram Reels vs TikTok would show very different character limits. Instagram Reels followed the same character limits of image posts, allowing up to 2,200 characters and 30 hashtags. TikTok had its character limit for video descriptions set at 300.
In Q4 of 2022, TikTok increased the video description character limit to match Instagram at 2,200. An in-app announcement said this was "to express more details about your creations, describing what your videos show, giving you the opportunity to get closer to your audience, generating more engagement while becoming more searchable and better recommended by TikTok to viewers.5" Best practices for TikTok video descriptions still suggest keeping descriptions to a relative minimum.
Once live, TikTok does not allow creators to edit video descriptions. Instagram Reel descriptions may be edited even after they're live.
🛍 In-App Shopping
Instagram Reels: Can tag products in video from product catalog.
TikTok: Can add product links using TikTok Commerce feature (limited access for now).
Instagram has long been a preferred platform for e-commerce businesses looking to promote their products and make shopping easy from within the app. Instagram Reels continue making this easy, allowing creators to tag their products in a video and link to the product within their catalog.
TikTok has made strides to keep up with this functionality, allowing in-app shopping, as well. Creators can add product links to TikTok videos using the TikTok Commerce feature7. This feature is not available in all markets at this time, but continues to expand.
Differences
Music and sound library

Video privacy options

In-app scheduling tools

Available video effects and filters

Age-restricting videos
🎶 Music/Sound Library for Creators
One of the immediate similarities for content creators on both platforms is the existence of a music/sound library in the editing tools. These options are also one of the most notable differences between Instagram Reels vs TikTok when editing video content.
While each platform has a music and sound library, Instagram Reels have a much more limited selection for creators to choose from. This is partly due to Instagram's larger efforts to flag copyright infringement as well as the inability of creators to upload sounds the way they can on TikTok.
TikTok's music and sound library is far more expansive, which leads to a higher turnover of trending sounds and perpetuates the faster-paced video experience of the platform. Creators need to be in tune with trending sounds and music in order to create relevant content quickly before trends shift.
Creators wanting to make a sound on TikTok can upload the audio they want with relative ease. It can be as simple as uploading a video with the desired audio, listing it as private, then selecting the audio from your personal sound library to add to another video. Additionally, it's easier to record audio on TikTok, making your audio available for use by other content creators.
🔐 Video Privacy Options
Another difference content creators will notice when comparing Instagram Reels vs TikTok is how each platform approaches video privacy options. TikTok allows creators to publish private videos. These videos cannot be privately shared, but are able to be viewed by the creator on their own account.
Instagram Reels follow the privacy setting for the creator's account. Public accounts will automatically have their Reels visible to everyone and open to remixing unless that setting is turned off. It also means private accounts will only allow media to be seen by approved followers. Since Instagram Reels are also automatically found in the Reels section of your personal account, viewers will be able to find them there.
📅 In-App Scheduling Tools
When content creators are comparing Instagram Reels vs TikTok, being able to schedule content in advance is an important issue. Each of these platforms allows you to schedule video content to go live at a certain date and time, but they do so differently.
Instagram Reels can be created and scheduled from within the app itself. Creators can schedule up to 25 posts per day and 75 days in advance. This is necessary for the app, as the desktop site for Instagram is exceptionally limited in functionality by comparison to TikTok.
Creators on TikTok are only able to schedule media from the desktop site at this time. Creators hope this will change over time, making the app more competitive.
🪄 Available Video Effects and Filters
One of the more surprising differences between Instagram Reels vs TikTok is the number of available video effects and filters creators can use.
TikTok creators can access various AI voice actors and voice modulators, AR effects, and screen filters. The platform also has an immensely popular Green Screen effect, widely used by creators across all different types of videos.
The surprising thing is that Instagram Reels actually offer a wider variety of these features for creators to choose from, giving more options for content diversity and less oversaturation of any one choice.
🚫 Age-Restricting Videos
Both Instagram and TikTok require users to be at least 13 years old in order to have an active account, but content creators sometimes want to restrict certain content to 18 years and older.
Instagram Reels offers creators more direct control over age-restricting videos with settings available during the editing and publishing process. They also provide a series of tools in the Family Center focused on keeping underage accounts under parental supervision and restrictions for safety.
TikTok does age-restrict content, but it uses its algorithm to restrict viewing of some media on accounts for people under 18. Similar to Instagram, the TikTok platform has the Family Pairing6 option, which gives parents customizable control over account discoverability, screen time, content restrictions using specific keywords, LIVE stream viewing ability, and more based on parental preference.
Instagram Reels vs TikTok Algorithm
One of the most popular things about TikTok is how accurate its algorithm seems to be. Content creators can study how the TikTok algorithm works from what is known in order to maximize media performance.
The TikTok algorithm is rooted heavily in curating videos based on previous watch history as well as engagement. What videos a viewer watched the most, commented on, liked, as well as the creators they follow heavily influence the content they're likely to see on their For You Page (FYP).
Similar to TikTok, social media experts assess that the Instagram Reels algorithm is meant to curate media based on viewing history, engagement, and the types of content creators viewers follow. That said, the Instagram Reels algorithm isn't always as strong as TikTok's, leading to more videos being seen where viewers question why they were shown it.
Watch and Engagement Rates of Instagram Reels vs TikTok
Some of the most important metrics for any social media content creator are watch rate and engagement. Comparing Instagram Reels vs Tiktok, you'll find these metrics are split between the platforms. Instagram Reels comes in with a higher average watch rate of just over 13%. Compared to TikTok's 9% average watch rate, this could be significant for creators monitoring this metric.8
Conversely, TikTok engagement rates are often noticeably higher than on Instagram Reels. For example, Justin Bieber posted a dance challenge video on Instagram Reels and TikTok. The Reel got 4.8 million likes, which was a 3% engagement rate. The same TikTok video received more than 9.5 million likes and had a 49% engagement rate. This doesn't mean brands should abandon Instagram Reels for TikTok, but it does show that TikTok does tend to leverage user-generated content better than Reels.
Creator Resources for Instagram Reels and TikTok
For content creators looking for ideas, inspiration, and guidance to produce better media for Instagram Reels and TikTok, check out these guides:
The ongoing battle between Instagram Reels vs TikTok means creators have more opportunities than ever to produce media for wider audiences. Familiarize yourself with what performs best on each platform to optimize your video performance. As each platform continues to release new features, creators and viewers will each experience content in new and engaging ways.
Additional References and Resources
https://about.fb.com/news/2023/03/facebook-today-and-tomorrow/

https://techcrunch.com/2023/02/20/tiktok-revamped-creator-fund-creativity-program-beta

https://www.wired.co.uk/article/tiktok-wants-longer-videos-like-not

https://help.instagram.com/139004934231412/?cms_platform=android-app&helpref=platform_switcher

https://www.searchenginejournal.com/tiktok-increases-length-of-video-descriptions/465926/#close

https://support.tiktok.com/en/safety-hc/account-and-user-safety/user-safety#4

https://ads.tiktok.com/help/article/add-product-links-tiktok-videos?lang=en

https://www.socialinsider.io/blog/tiktok-vs-reels-vs-shorts