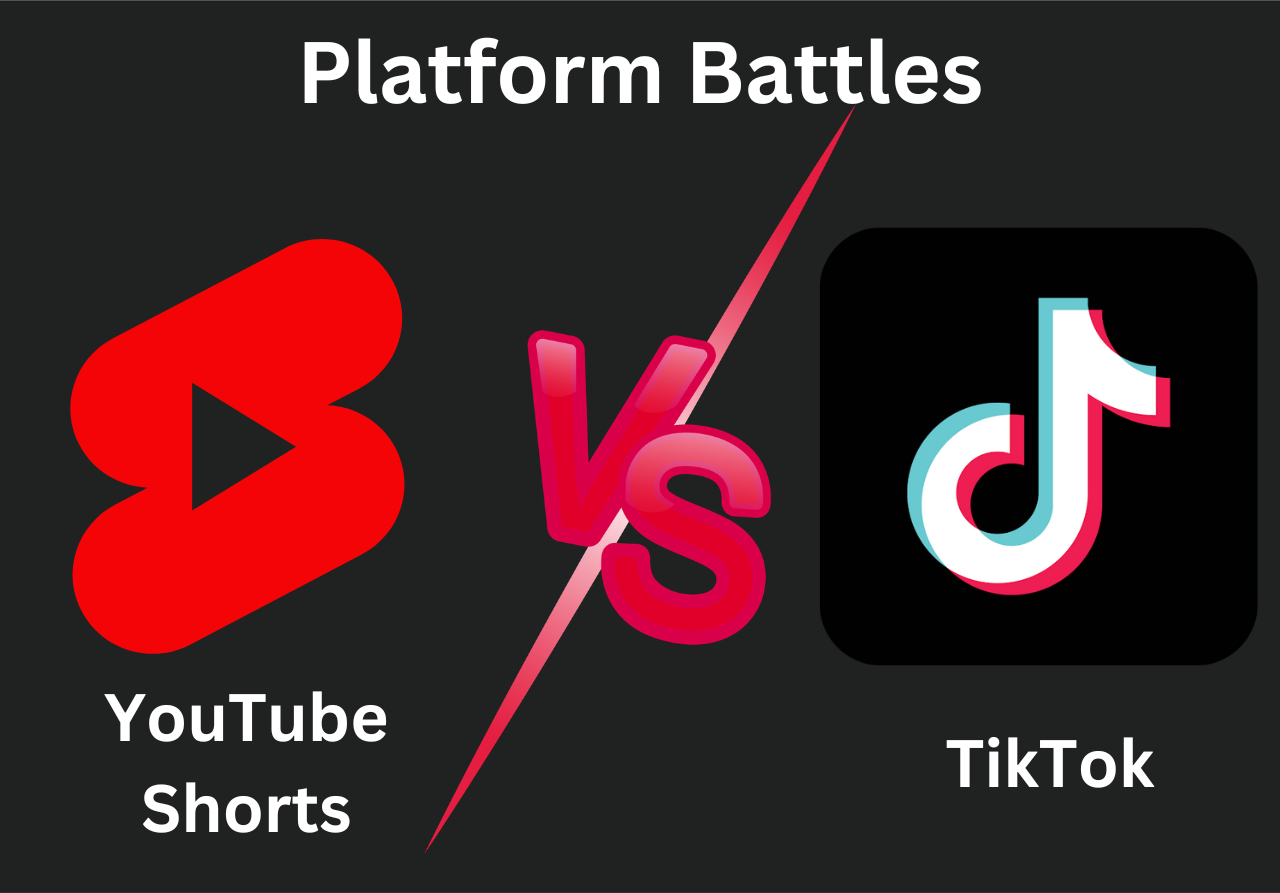 Platform Battles: YouTube Shorts vs TikTok
In 2016, TikTok launched and revolutionized vertical short form content for audiences worldwide. With over 1 billion monthly active users, it's a megalithic platform for individual content creators, small brands, and established enterprises. In 2020, YouTube launched its vertical short form content platform, YouTube Shorts, creating stiff competition for new media.
In this platform battle, we're comparing YouTube Shorts vs TikTok to see what ways they're alike and dive into their differences. See how each is being used by both creators and viewers to determine the most effective way to engage in modern storytelling.
Using YouTube Shorts vs TikTok
Where both of these major short form content platforms allow creators to find their footholds and viewers to see content they like, the overarching intent for content on each has been substantially different to this point.
YouTube Shorts Uses
YouTube Shorts as trailers/teasers for long form content

New monetization model incentivises unique content coming to the platform

Creators also break down long form content into smaller, digestible media via Shorts
While the format of videos is similar to TikTok, up to now many YouTube Shorts creators have used the platform as a conduit to build viewership for their main channel's long form content and boost its monetization. The new monetization model for YouTube Shorts released in February 2023 aims to incentivize content creators for creating unique short form media for the platform, so this may begin to change and see more types of short form content make their way onto the platform. 
Creators have created YouTube Shorts to use as trailers or teasers for long form content, sometimes breaking long form videos down into smaller digestible media to increase their reach and build main channel subscribers.
TikTok Uses
Content ranging from educational content to singing, dancing, and creative storytelling

Standalone platform instead of directly attached to long form channel

Streamers use TikTok LIVE in conjunction with Twitch and YouTube for multistreaming
Starting as a platform called "Musical.ly" and primarily focused on lip syncing to music, TikTok has turned into a short form content platform showcasing everything from educational content and political discussions to singing, dancing, and creative storytelling. As TikTok isn't attached to a long form content channel the way YouTube Shorts are, creators use it for creating more unique content instead of repurposing longer media. Many creators still use TikTok content to drive traffic to their main YouTube channel for maximum reach potential, but not necessarily as trailers for long form content. 
There are also a lot of streamers using TikTok LIVE options in conjunction with other streaming platforms like Twitch. Where YouTube does offer multistreaming, YouTube Shorts lacks this feature at this time.
Comparing YouTube Shorts vs TikTok: Features
Comparing YouTube Shorts vs TikTok highlights the features each platform provides creators and viewers. For creators, both offer sound libraries, auto captions, performance analytics, and some video effects to use. Viewers experience similar video feed designs, vertical short form content, and the ability to share videos with others.
Conversely, the differences between the features of YouTube Shorts vs TikTok are much more substantial. We've put together a high-level comparison of features from these two platforms. This list is not exhaustive, and there may be additional features or future changes from the platforms to improve creator and viewer experiences.
🎶 Music/Sound Library
Both YouTube Shorts and TikTok each have a music/sound library enabling creators to make audio selections for their media. Where there are trending sounds on TikTok that may not have made it to YouTube Shorts yet, the YouTube Shorts music library is much larger for mainstream songs, making it a larger asset.
The new YouTube Shorts monetization policy will be partially used to fund music rights, meaning the YouTube Shorts library will likely maintain its status as the winner for the foreseeable future.
👍🏼👎🏼 Like & Dislike Buttons
One of the fastest ways for viewers to react to videos is by liking content they enjoy. Both platforms offer a like button — a heart for TikTok and thumbs up for YouTube Shorts.
A feature of YouTube Shorts that is missing from TikTok is the presence of a dislike button. Similar to main channel long form content, YouTube Shorts offer viewers like and dislike buttons to react to content they see.
📲 Recording Directly On the App
Recording video directly on the app is an important feature of both YouTube Shorts and TikTok. Both apps let creators start and stop recording within the allotted video time limit, allowing them to stitch those clips together during the editing process.
🔐 Unlisted or Private Videos
One of the differences in features creators will notice comparing YouTube Shorts vs TikTok is how each handles unlisted or private videos. Similar to long form channels, YouTube Shorts allows content creators to unlist videos, making them private. These videos are still able to be shared and viewed using a link.
TikTok allows creators to publish private videos, as well. The primary difference here is that the platform does not have a method for sharing those private videos, making them only viewable by the creator on their account.
Note: This difference may have a particular impact for creators trying to create a sound on TikTok or YouTube Shorts.
💬 Direct Messaging Capabilities
YouTube Shorts and TikTok are both social media platforms, so being able to connect with other users is essential. At this time, YouTube Shorts does not have a direct messaging feature on the app, relying solely on comments for communication.
TikTok has both comment sections on videos and in-app direct messaging. This lets viewers share content within the app itself instead of having to send it via SMS (text messages) or email.
📅 In-App Scheduling Tools
For creators working on multiple projects at once, the ability to schedule content for publication is a major benefit. Both YouTube Shorts and TikTok have methods for scheduling videos to go live, but only YouTube Shorts has this capability from within the app. 
Creators on TikTok are able to schedule media from the desktop site only.
👯 Stitching/Dueting Content From Others
Two of the most-used features of TikTok unavailable on YouTube Shorts are the options to stitch and duet other people's content while recording your own. TikTok creators can directly use content from other accounts while recording their own media. Stitch is a creation tool that allows creators to use part of another person's video in conjunction with their own. Duet is similar, presenting the other person's video in a side-by-side format.
YouTube Shorts does allow creators to stitch together multiple clips from their own recording, but it doesn't allow creators to stitch content from other accounts. This is a huge engagement booster that many creators use to reach wider audiences and is a win for TikTok.
🤳🏼 Video Responses to Comments
The ability for creators to respond to comments with video on TikTok is an effective, and popular, way to engage directly with viewers. This feature was unique to TikTok until the second half of 2022, when YouTube Shorts enabled its "Reply to Comments with a Video" feature.
🗣️ In-App Voice Over Recording
TikTok allows its content creators to record voice over audio in the app. This is beneficial for creators wanting to make a sound on TikTok. 
YouTube Shorts has now caught up and offers its creators this ability, as well.
📝 In-App Auto Captions
Both YouTube Shorts and TikTok offer creators the opportunity to add auto captions, but YouTube Shorts creators cannot do so in-app. Instead, creators have to use YouTube Studio to add, edit, or remove auto captions. TikTok makes it easier for creators to caption their videos within the app itself during the editing process.
Google has published a resource suggesting content creators add professional captions to their media before relying on the platform's captioning capabilities. Many creators are turning to third-party apps like MixCaptions for more direct control over captioning videos as well as styling them.
🪄 Available Video Effects
Comparing YouTube Shorts vs TikTok also highlights the larger variety of video effects available on the TikTok platform. Creators have access to various AI voice actors and voice modulators, AR effects, and screen filters.
The YouTube Shorts platform offers the famous "green screen" effect, but otherwise only allows creators to adjust video brightness and color levels at this time.
🚫 Age-Restricting Videos
Comparing the approach of YouTube Shorts vs TikTok for labeling content as suitable for children or not shows how each platform differs. YouTube Shorts allows creators direct control over age-restricting their media, whereas TikTok does not at this time. TikTok, instead, uses its algorithm to restrict content viewing for some media on accounts for people under 18.
TikTok does have its Family Pairing option, which gives parents customizable control over account discoverability, screen time, content restrictions using keywords, ability to see LIVE streams, and more. YouTube Shorts does not have a similar restriction model at this time, requiring parents to use third-party programs to govern their child's media viewing. 
Monetizing YouTube Shorts vs TikTok
Content creators need to be aware of how to monetize YouTube Shorts vs TikTok. While each platform offers ways for creators to make money from their work, a common complaint about TikTok is how much revenue the platform keeps and how it is easier to make more money monetizing long form content on a main YouTube channel.
Options for Monetizing YouTube Shorts
Ways to monetize YouTube Shorts:
YouTube ad revenue sharing via YouTube Partner Program
YouTube Shorts has made major changes to its monetization policies. The previous method for content creators to make money from YouTube Shorts was via the YouTube Shorts Fund. This was replaced in February 2023 with a new YouTube Shorts monetization policy using an ad revenue sharing model. To be eligible, creators must meet certain criteria and join the YouTube Partner Program.
Options for Monetizing TikTok Videos
TikTok offers content creators a number of ways to monetize short form content, such as:
Creator Fund

Creator Marketplace

Video Gifts

TikTok LIVE Gifts

Tips

"Series" Premium Content (

note: This is currently being rolled out to select creators and may change since it's currently in its infancy. More info

can be found here

.)
While the percentages retained by TikTok have been a source of discontent for many creators, the platform continues to offer new ways to monetize media.
All of these fall under the portal called Creator Next.
YouTube Shorts vs TikTok: Ease of Use
At this time, TikTok wins for overall ease of use compared to YouTube Shorts. The TikTok platform offers creators a wider variety of recording and editing options for content and gives viewers more opportunities to discover new media and share with others. The TikTok app and desktop site both offer discoverability tabs, direct messaging, and better search methods for users.
Where YouTube is often called the second largest search engine in the world, the YouTube Shorts platform currently lacks streamlined functionality to compete with TikTok. For example, the YouTube Apple TV app still lacks a search function for YouTube Shorts, leaving behind potential opportunities for viewers to experience this content.
Creator Resources for YouTube Shorts and TikTok
For content creators looking for ideas, inspiration, and guidance to produce new media, check out these guides:
The battle between YouTube Shorts vs TikTok gives content creators more opportunities than ever to reach wider audiences and monetize their work. Each platform continues to evolve and roll out new ways to experience short form media, benefiting creators and viewers alike.