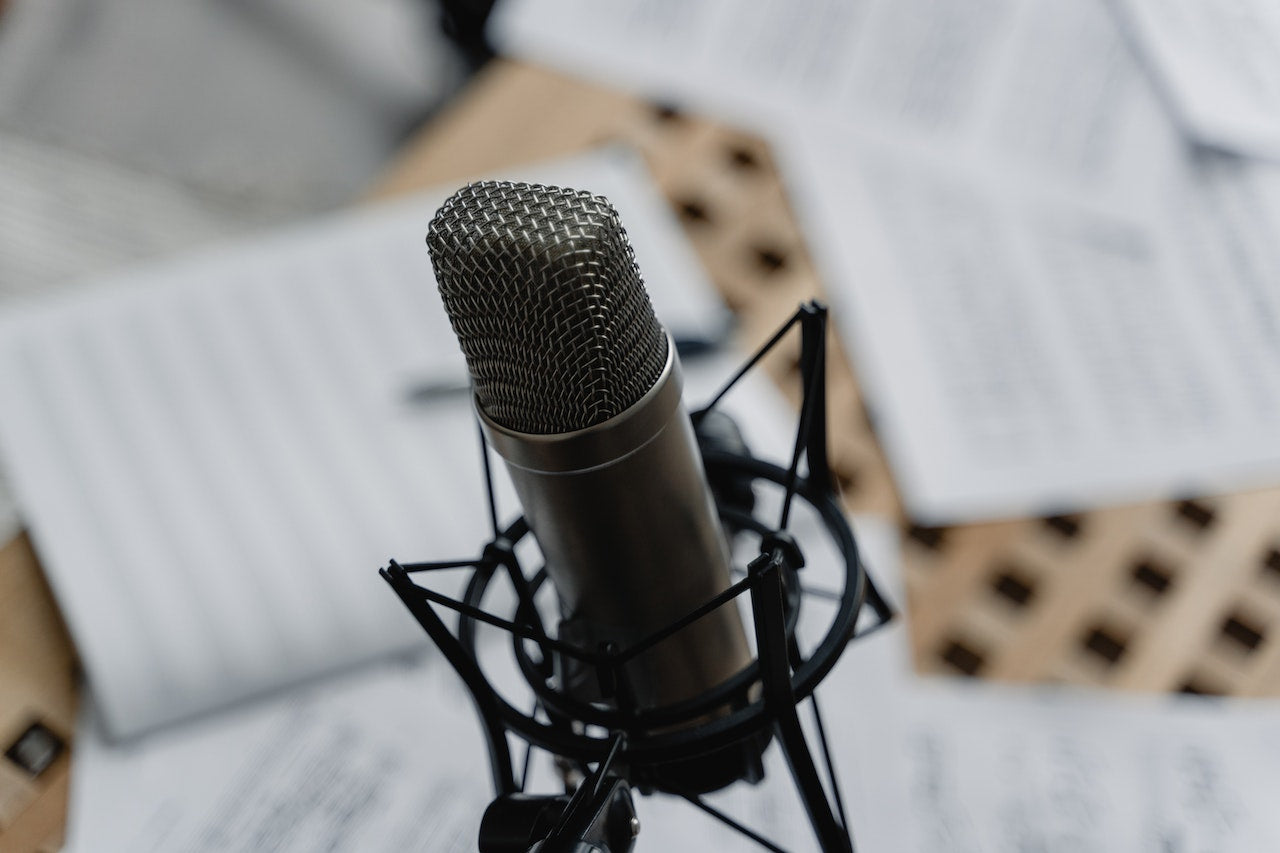 How to Write a Voice Over Script for Short Form Content
Learning how to write a voice over script helps content creators and voice actors effectively plan relevant content for their audience.  It's a great tool to help you "stop the scroll" and grab your viewer's attention, which is critical in the short form content (and also written as short-form content) space. 
Below, we're exploring use cases for a voice over script, how to write a voice over script, and different tools you can use as you learn how to write voice over in script to help streamline your process. 
Why Write a Voice Over Script?
Learning how to write voice over in script lets you scale and streamline the production and editing process effectively. You'll save time and money spent on each visual production, and reduce the amount of takes you'll need to make to walk away with the perfect voice over recording. 
Beyond the logistical benefits of choosing to write a voice over script, you can also enjoy a better overall product, featuring better optimization and content focus. This exponentially impacts your viewership and engagement, triggering the algorithm to promote your well-produced content over more amateur productions. 
Not sure if you need a voice over script? Here are examples of different creators who use VO scripts for their projects:
Social media content creators:

 Social media creators only have a few seconds to maintain the attention and loyalty of their target audiences. Even if they serve a specific niche, they're still competing with industry leaders who have access to more money, time, and resources. Learning how to write voice over in a script is a great way to easily differentiate your content and give it a more polished feel. 
Influencers:

Influencers continuously represent a brand — whether it's for themselves or someone else. Learning how to write a voice over script is a skill that pays off in the long run, giving them an enviable and professional-looking brand portfolio that can win larger brand deals with greater pay and recognition. 
Brand marketers:

These specialists are often restricted to specific talking points about a given product or service. Voice over scripts for short form content help them to work in a more sleek, streamlined way without the use of several different SOPs and resources. 
Vloggers:

Adventures aren't linear. Casual and lifestyle vloggers should learn how to write a voice over script to keep their videos optimized, focused, and impactful for their target audience; actively bolstering their viewership and follower count.
Educators:

Students have a notoriously shortened attention span, especially when under the stress of an exhausting semester. Short form video scripts help to present the most important content in the best possible way, while allowing the educator the flexibility to enhance it with stories, examples, and relevant anecdotes. 
The content creation space is constantly evolving, moving toward all things innovative and new. These changes have clearly shown the benefit of learning how to write a voice over in script — bringing a unique, professional quality and unparalleled content clarity to even the most simplistic or rushed video take. You can also use this skill to create voice over loops, which is a great way to hook the audience in for repeated viewership and increased view length. 
How to Write Voice Over in a Script With Proper Formatting
While there are plenty of different "proper" formats to use to write a voice over in a script, the ultimate goal is to streamline your unique production process. This means that you can take whatever creative liberties you need to to make the steps work for you. 
We've listed some tips that you can use to create full voice over videos, or videos with multiple voice over and narration elements below. 
Name formatting

: Using formalized name formatting goes a long way to keep your scripts simple and readable. Formal script formatting normally looks like "[Name] (V.O.)" and then your subsequent text, giving you the opportunity to insert natural breaks and pauses in your script. You can also use this to differentiate easily between multiple speakers at-a-glance, potentially resulting in fewer takes. 
Consistency and accuracy:

You won't want to spend time and resources on multiple takes. Consider your template or format of choice, and review it for consistency and accuracy. 
Is it easy to read? 

Are all elements correctly spelled and arranged? 

Are all necessary voice actors included in the script? Are they clearly and accurately notated before their speaking parts?
Actor support:

Creating a chart with voice over script and notes for actors is a great way to keep your steps as streamlined as possible, giving everyone the tools they need for a seamless recording experience. You can make this as in-depth or simple as you like, covering key elements of the recording (such as linguistics, tone, emotion, etc.)

"Off Screen" notation:

This type of notation can be a great tool for unseen people, and can be simply noted as: "[Name] (O.S.)" along with any relevant notes to production crews to focus on altering the voice proximity or other production elements. 
Tools for Writing Voice Over Scripts
There are many different ways that you can begin to write voice over scripts. You can jot down simple script ideas or points in your favorite notes app, or keep everything centralized with a sleek and dense platform-based software. No matter how you prefer to plan, there is no wrong way to do this step. We've listed a few of the top content creation tools below, and general tips for using them.
Apple Notes 
Apple Notes is great for simple, quick ideas that you'll want to come back to later. iCloud syncing makes this tool especially easy to use, keeping your ideas accessible and top of mind. You can access your information at any time through MacOS or iOS via your mobile iPhone.
Celtx
Celtx is useful for writers looking for more depth to their software features. While it's been tailored for those looking to create film and TV productions, it can be used for personal projects as well. It's considered industry-standard software and can serve as an automatic formatter, keeping your time as agile and efficient as possible in the strategic, imaginative realm. 
The site also offers advanced story development tools to help get your creativity flowing. Subscriptions are available with a tiered tool structure, allowing you to stay surface level or dive deep into your creative venture. Free trials are available for subscription plans at the time of this publication.
WriterDuet
WriterDuet is best for scaling your scripts and is built to streamline your scriptwriting. Work independently or on a collaborative basis with this cloud-based tool, and leverage its auto-formatting options to get your script reviewer ready. You can try three free projects with no page limit or watermark restriction without even submitting your credit card. 
MixVoice
MixVoice remains completely unique in the industry, allowing you to do two critical functions at once. You can create your script while simultaneously adding voice over to video content, completely changing the game for content creators and creative experts. This simple two-pronged approach reduces your production costs and time spent making content, keeping you at your highest level of creativity and functionality. 
There are both free and premium plans available to suit creators of all levels, each of which offer unique advanced features — such as AI voice over options with adjustable emotions, the ability to work on multiple projects at once, and support across common video ratios — keeping your content production moving at all times. 
How to Write a Voice Over Script for Effectiveness
While everyone has a natural ability to speak and engage, assembling a concise voice over script can still feel overwhelming. If you find yourself running into trouble, try writing your content as you normally would speak it. Then, take time to include several rounds of editing for cadence and conciseness. Practice your script with others to truly gauge its effectiveness and flow. 
Ready for (more) tips  to help you put together your next voice over script? Here's a step by step guide you can follow to create an effective short form script that can impress your audience and keep them engaged.
We'll be covering,
Picking your script writing tool of choice 

Gathering your video references 

Choosing your content type 

Writing audience-forward content 

Staying competitive and concise 

Keeping your script in a "storytelling flow"

Inserting emotions, speed changes and variation into your voice over

Keeping script lengths short for short form content 

The importance of editing
Let's explore the steps to take your voice over script from concept to creation.
1. Choose a Script Writing Tool (And Stick With It)
It's time to make disorganized notebooks and multiple app pages a thing of the past. From simple tools like Apple Notes to industry-leading options like MixVoice, there are plenty of different tools available that are built to suit your specific formatting and organizational preferences. Choosing a tool (and sticking with it) is critical to the development and quality of your content, resulting in a more polished end product. Plus, you'll find that you'll have a significant improvement across every step of your productivity and workflow, keeping your content stream progressing efficiently.
2. Gather References or Similar Videos
Reference videos are a fantastic way to get your creativity flowing, and if you're collaborating with others, a point of reference for your vision.  Using references can also help you see where others are falling short in quality, while inspiring new ways to improve on your pacing, flow, and tone to keep your work above the rest.
3. Choose Your Content Type
There are many different types of content, all of which generally require a nuanced approach to script writing and voice over execution. Learning how to write a voice over script is a great place to start, and is a skill that helps you to determine your content type. Once you do, you can edit your script format to suit your specific needs. 
Not sure where to start? Try sorting your content by genre and going from there. For example, if it's instructional, you'll want a voice over script that supports concise, clear, and step-by-step instructions to keep your audience focused on the end result. If it's meant for entertainment, you can write your script to reflect this lightness, keeping wit and conciseness top of mind to maintain your audience's engagement. 
In either case, feel free to look up content type specific references and edit your voice over flow and delivery accordingly. 
4. Write for Your Audience
Writing for your audience gives you an immediate advantage over your competition. If you know who your audience members truly are (how they talk, receive information, and what specific messages can add value to them), you can use this in your script writing process. 
Consider this step your roadmap to success for this content and future content, showing you exactly what you need in your script to help you make a hit video across your core demographic. For example, if your audience consists of viewers in a demographic that skews younger, like Gen Z, your tone, pacing and language will differ from if you're targeting an older generation.
5. Get to the Point
Learning how to write a voice over script for short form content should teach you one core lesson: Keeping the short form content script SHORT. After all, you have very little time to grab viewer attention, especially on social media platforms. Consider formulating your script with a compelling hook, moving quickly into a storytelling flow to keep them engaged through the end of the video. Stay on topic and don't add too many points. Give your audience just one core message to focus on at once. 
6. Make Sure Dialogue Moves the Story Along
There's no place for fluff in a short form video. You have limited real estate to keep your audience engaged, which is why storytelling-style content does best in most cases. Omit extra details and only include those most impactful to your main point.
7. Build Pauses and Notate Speed for Effect
People lose interest quickly if you don't keep them engaged past your hook. You can do this naturally with voice variation, speed changes and natural pauses in conversation, mimicking a one-on-one talk. Consider adding something every 5 seconds on average, such as a pause or a tone change, to keep them involved in your story. 
8. Check Script Length
Short form content should be short. This can be difficult to remember as you get into the flow of scriptwriting. After you do your initial draft, take a second pass the following day to edit your script down to essential information only. This will help you tell your story effectively while keeping your video at a digestive length. Consider doing background research on the average length of different video content across social media platforms. 
For example, the ideal length for TikTok videos is under a minute long, while Instagram Reels can be even shorter, averaging about 30 seconds. Your script length may vary depending on the type of content you are creating. Outside competitor research is key to ensure that your video is relevant and housed in a similar format compared to other content your audience is viewing. 
9. Write Voice Over for Speaking, Not Reading
A voice over script must be constructed differently than something being read, like a book. Consider speaking as you write to determine what sentence structure sounds most natural. For example, you should avoid using large or complex words, as well as long, run-on sentences. Most people speak in a short form friendly way, keeping everything simple and genuine. As you edit and try different styles of speech, consider other points of personalization to make it sound less robotic and more natural, such as pacing, tone, language, and inflection. Check out other ways to maximize your impact with the latest text to speech tips for 2023. 
10. Edit, Edit, Edit
There's no such thing as too much editing. Take some time to set your script down and review it later on with fresh eyes. This helps you to catch things that you otherwise wouldn't, and truly whittle your content down to its most concise and conversational form. 
Looking for more? Take a look at this post for when you hit record: Voice Over Tips for Recording High Quality Audio