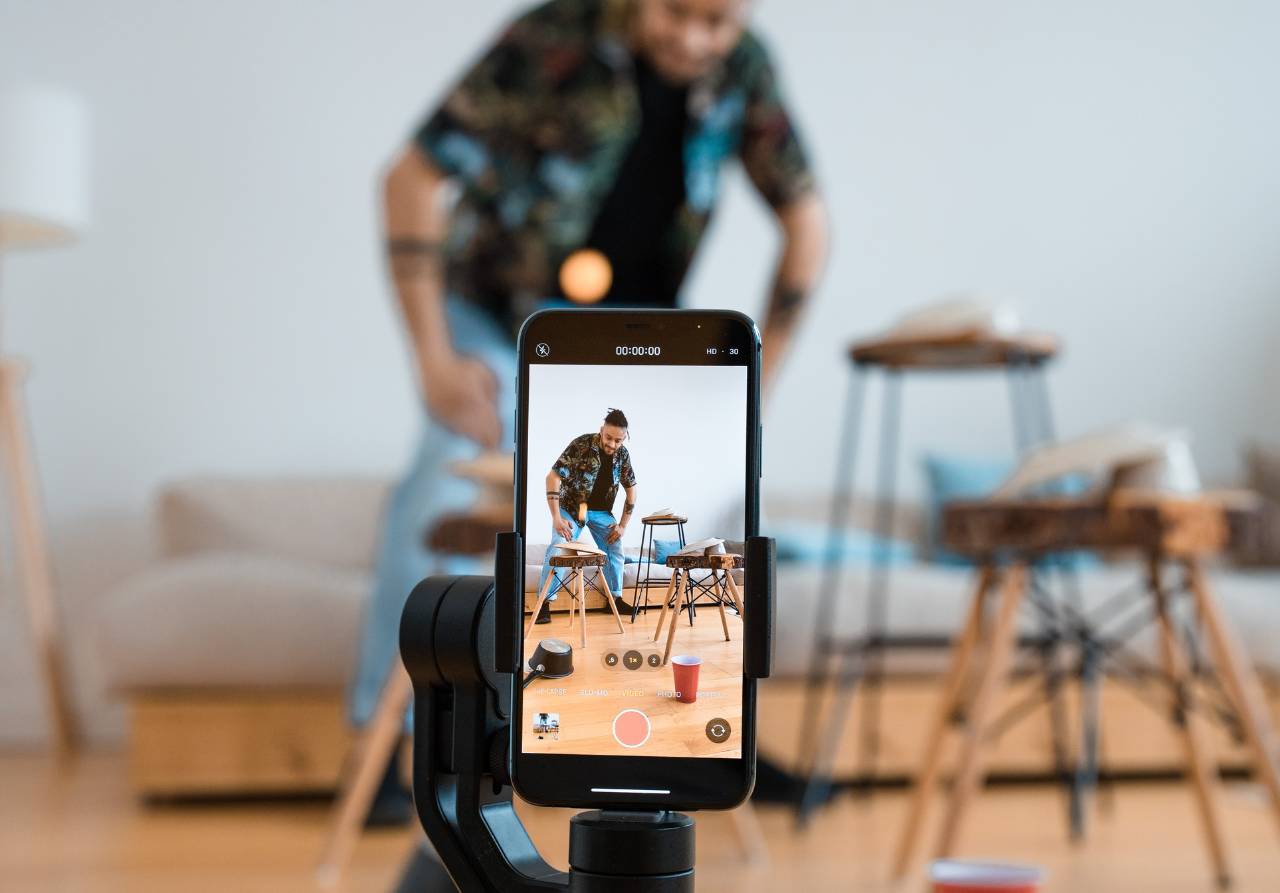 How to Get Better Quality on TikTok With Your Phone
Are you uploading videos on TikTok only to find the quality comes out poor? Content creators need to know the best TikTok video quality settings and recording techniques in order to maximize the performance of their media.
We're presenting creators with how to get better quality on TikTok video uploads from start to finish. Follow this guide to elevate your content and be noticed on TikTok for the right reasons.
Why Is My TikTok Camera Quality Bad?
When you've just filmed your latest TikTok video, it's frustrating when it turns out to be lower quality than other media on the platform. The competition for viewer engagement is fierce and content creators need to be publishing high-quality videos to stay on top. This leaves some creators asking, "why is my TikTok camera quality bad?"
The most obvious possibility is you're not using the best TikTok camera for the type of content you're recording. The wrong camera will produce lower-quality footage, making it more difficult to build high engagement and view times after publication. Advancements in phone cameras make them more than capable of recording high-resolution video for most types of content, meaning the next step is to look at settings and video specs.
TikTok video quality settings make or break your content. The wrong TikTok camera settings or shooting setup will result in blurry, grainy, or glitchy media when posted on the platform. The platform hosts vertical short form media, so filming horizontally, for example, yields a poor viewing experience for users.
Other reasons for poor TikTok video quality include upload glitches, recording in too high of a resolution, uploading outside the recommended video specs, or limited server capacity during your upload.
How to Get Better Quality on TikTok Video Uploads
The most successful social media content creators know how to get better quality on TikTok recordings with just their phones. Knowing how to optimize your phone for recording videos for TikTok keeps you nimble and able to produce media quickly to jump on trends as they arise. The TikTok space moves quickly, so taking time to produce content means you risk missing out on opportunities to reach a wider audience.
Some of the most effective methods for how to get better quality on TikTok video uploads are:
Having the right TikTok video recording setup

Optimizing your smartphone for TikTok video recording

Turning off Data Saver mode

Following TikTok video specs

Changing TikTok video resolution while editing

Editing TikTok videos with third-party creator tools

Uploading TikTok videos using a desktop web browser
Having the Right TikTok Video Recording Setup
The first step towards how to get better quality on TikTok with your phone is to have the right recording setup. If you're filming on the go, tools to improve shaky video issues is a necessity. Content creators shooting from home should have a sturdy setup that properly supports their phones while recording. Even small movements can cause blurry video or distract viewers who will scroll past your media and on to the next on their FYP.
Having a tripod or gimbal plus lighting equipment and any necessary mics for recording high-quality audio gives you everything you need for high-quality TikTok videos.
Optimizing Your Smartphone for TikTok Video Recording
The best content creators know that optimizing your smartphone for TikTok video recording is essential. Instead of just pointing and shooting, you need to adjust your TikTok camera settings to shoot video that will capture viewer attention for the right reasons. Depending on whether you're using an iPhone or Android, there are different TikTok video quality settings to use for shooting.
Optimizing an iPhone as a TikTok Camera
Content creators shooting video content with iPhones have a few easy steps they can take to optimize the camera for shooting higher-quality video. You should:
Turn your video recording to 4K output resolution

Adjust your frame rate to 4K at 24fps for a cinematic feel

Turn off the HDR video setting for better compatibility with video editors

Use the grid option to help you frame your videos

Turn off the "view outside frame" option to cut down recording distractions

Turn on "Macro Control" for extreme close ups
While the fps setting for the iPhone goes up to 60, shooting in 24fps gives a more cinematic feel. It's the frame rate that feels most natural to the human eye and gives viewers a smoother experience.
Using an Android Phone as a TikTok Camera
While many tips for recording high-quality video are the same for both iPhone and Android devices, there are some options that are unique to the latter. Content creators using Android phones should:
Shoot in manual mode

Turn your video recording to 4K output resolution

Disable the High Efficiency Video Coding (HEVC) option for video editor compatibility
Some Android devices may have different setting options available, so choosing the closest settings to those listed above will optimize its use as a TikTok camera.
Turning Off Data Saver Mode
The TikTok platform has a setting called Data Saver mode that is meant to reduce the amount of cellular data your phone uses while you're watching videos. It may save you data on your phone plan, but creators who want to learn how to get better quality on TikTok with their phone need to toggle this setting off. The Data Saver mode may result in blurry videos when recording or uploading videos on the app.
To check or turn off Data Saver mode on the TikTok app, open it and go to your profile then follow these steps:
Click the menu icon on the top right of your profile page

Select "Settings and privacy"

Scroll to the section labeled "Cache & Cellular" and touch "Data Saver"

Toggle the Data Saver feature off
Following TikTok Video Specs
One of the easiest methods for how to get better quality on TikTok with your phone is to make sure you're following the right video specs. Shooting outside of these specs will result in low-quality video and poor media performance.
The best TikTok video quality settings and specs are:
Video Aspect Ratio:

TikTok videos should be in the vertical 9:16 aspect ratio. The platform will support videos shot in 1:1 or 16:9, but they will have black bars and present a poor viewing experience for users.

TikTok Video Resolution:

The TikTok platform only supports up to 1080p for video quality. This means videos shot in 4K are automatically compressed, which often leads to video quality issues. Only upload videos in 1080p for the best quality on the platform, adjusting videos shot in 4K during the editing process.

Video File Size:

If you're uploading an existing video file, be sure it meets the platform's video specs. Uploading on the desktop browser version supports video files up to 1GB in size. Creators uploading directly from their phones are met with two different file size limits. Android users may upload videos up to 72MB in size while iPhone users can upload up to 278.6MB videos.

Video Format:

TikTok supports WebM, MP4, and MOV video file formats. For ads, content creators may upload MP4, MPEG, MOV, or AVI files.
Changing TikTok Video Resolution During Editing
While TikTok may not support 4K video, content creators should still shoot in the highest resolution they can. Part of how to get better quality on TikTok with your phone is knowing how to manipulate TikTok video quality settings in your favor. Changing the resolution of a video from 4K to 1080p during the editing process using a third-party video editing platform will result in video resolution supported by the platform but with higher visual quality. Avoid allowing the app to compress the resolution for you, as this results in blurry or grainy media.
When uploading a 1080p video to TikTok, you should also select the Upload HD option following these steps:
Touch the + button to start the video upload process

Click the "Upload" option to add a video from your device library

Select the video you want to post and touch "Next"

On the Post page, select "More options"

Toggle the Upload HD option to the on position
Selecting the Upload HD option will result in higher-quality videos being published on TikTok.
Editing TikTok Videos With Third-Party Creator Tools
Editing your videos directly on the app using its native editing toolkit may sound convenient, but the truth is it limits your options and could deliver lower-quality video results. Creators looking for how to get better quality on TikTok with their phone are turning to third-party creator tools to edit videos, add captions to TikTok videos, and record high-quality voice over audio.
For example, MixCaptions gives creators direct control over creating, styling, and placing video captions for better social media accessibility and overall performance. Other content creator tools streamline the overall video editing process, including cleaning up audio, adjusting lighting, and even scheduling video posts without any negative impact on your TikTok video quality.
Uploading TikTok Videos on the Desktop Browser
When you're looking for how to get better quality on TikTok with your phone, you may not want to upload it directly on the mobile app. If you've got access to high-speed WiFi with a great connection and have taken care to optimize your phone for recording and uploading TikTok videos, there may be no issue.
Many creators have turned to uploading videos from the desktop browser version in order to avoid any potential drains on phone WiFi connectivity that distorts the final product.
Learning how to get better quality on TikTok with your phone means taking a close look at your TikTok camera settings and avoiding the platform's native editing toolkit. Utilizing better tools for creating your video and uploading it will result in the best TikTok video quality and maximize media performance.
Resources for TikTok Content Creators
To help you with how to get better quality on TikTok throughout the entire production process, take a look at these resources for TikTok content creators: